Jhulan yatra, as the name suggests is the Swing Festival of Lord Jagannatha in Puri. On this Special occasion Lord Madan Mohan, the representative idol of Sri Jagannatha swings on the specially made Swing. The Stage where the Swing hanged is known as Jhulana Mandap or the Swing Stage. During these days the stage was beautifully decorated with Flowers and lights. Traditional decorative items also crafted minutely.

This Jhulana Yatra is an week long Festival and begins on every 10th day of the Lunar Fortnight in Hindu Shravan Month ( July-Aug). It ends on pratipada after the Purnami Tithi or the Fullmoon Day of Shravan. To recall the divine Romance of Lord Krishna-Radha in the Vrindavan woods with Cowherd and Gopis, this Festival is observed. For this, Lord Madan Mohan along with Goddess Lakshmi and Viswadhatri worshipped on this specially made Jhulan or Swings.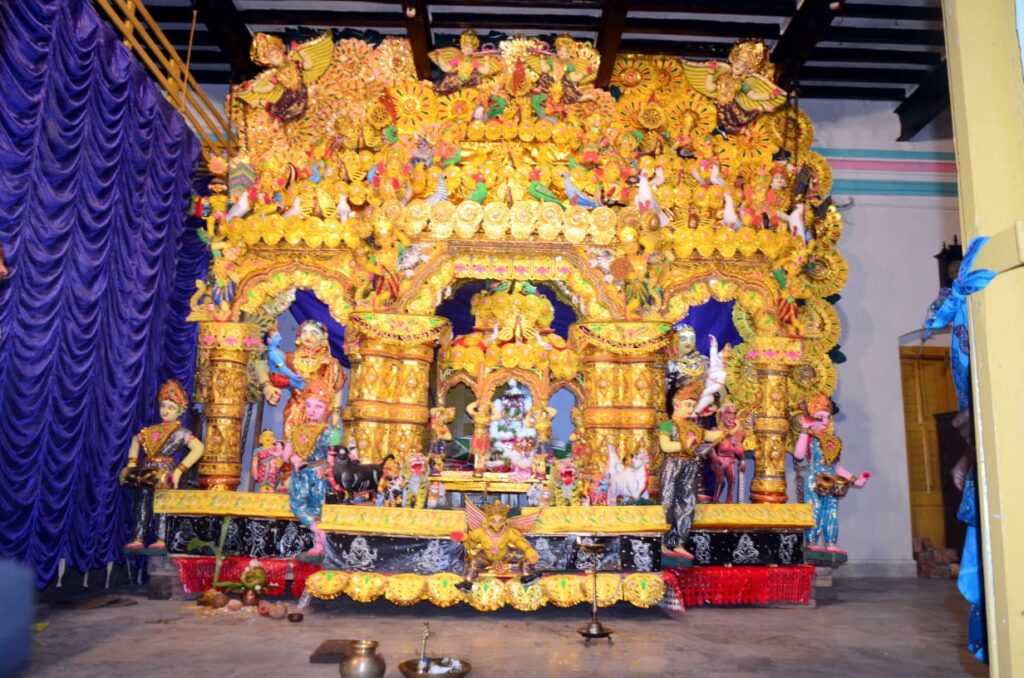 Where is Jhulan Mandap?
Jhulana Mandapa is located in between the Beharanadvara and the Mukti Mandapa on the south side of the porch of the Sri Jagannatha temple. We found it over the passage on the southern courtyard of the main temple between the Mukti Mandapa and the Bibaha Mandapa ( Wedding state). No information on its history or date of construction is available from any source. But from its construction style it can be safely guessed that it was most likely built after the Mukti Mandapa or the 16th century as its southside roof is found embedded on the pidha roof of the Mukti Mandapa. Most likely in 18th -19th century.
Who represents Radha with Madanmohan?
This Special occasion is celebrated for seven days from the Shrabana Shukla Dashami up to Pratipada in the month of August-September. Madanmohan, the representative image of Jagannatha along with Laxmi and Vishwadhatri are placed on a swing at Jhulan Mandap
When was the Jhulan Festival First added to Jagannatha Mandir?
The festival was added to the in the temple was first initiated by the Gajapati king Dibyasingha Dev-II (1793-1798) during the rule of Marathas in Odisha.
How monasteries in Puri Celebrate Jhulan Yatra?
This is a festival dedicated to lord Radha Krishna and being celebrated in Different Mathas around Sri Jagannatha Temple. Deities with beautiful costumes and ornaments worshiped on the swing ( Jhulan) placed at Jhulan Mandaps with flowers and scented water. The water is prepared traditionally with different natural ingredients. On the fool moon day this festival adjourned and deities are taken back to their respective palces.
Madan Mohan is the representative God of Lord Sri Jagannath and attend festivals being observed outside the sanctum sanatorium. He is worshiped on the Rathna Sinmhasana on other days along with the prime deity.
At Jhulan Madap priests chants Mantras and read Krishna Leela to the audiences. Bhajans and Kirtans being organised to create an ambiance of love and devotion.