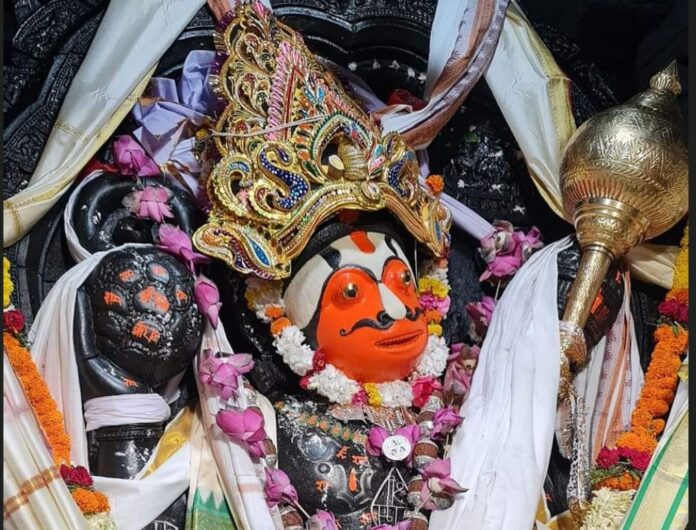 Hanuman worship in Puri temple and its nearby is very ancient. Moreover it is associated with very interesting folktales. It is believed that this Hanuman worship evolved after the followers of Sri Rama find their prime deity in Sri Jagannatha and started worshipping him as Lord Sri Ram.
You might be knowing that the Sri Jagannatha Temple in Puri serves as India's main centre for Vaishnavism. However, saints like Adiguru Shankaracharya, Ramanujam, Sadhu Bhimadev, Giru Nanak, Sri Chaitanya, and many more recognised him as differently  and offered appropriate homage.
When Saint Tulsi Das, an eminent poet from the 16th century, visited the Sri Jagannatha temple, he could not identify his primary deity, "Sri Rama," in him and he was initially a little embarrassed.
He sought shelter in a Sri Hanuman temple on the way back. He saw Lord Hanuman there, who gave him Mahaprasada and asked him to return to the temple.
Saint Tulsi Das returned to the temple in the morning following Sri Hanuman's advice. He captivated. He had the impression that Sri Ramachandra was standing in Ratna Singhasana in front of him in Ayodhya along with Lord Laxman and the goddess Sita while he was in the sanctum sanctorum. He felt blessed and exorcised Sri Ramachandra as well as Jagannatha. Sri Jagannatha was endowed with the Sri Rama ideology in this manner. And the followers of Sri Rama began worshipping Hanumaan or Mahaveer in Puri under the name Sri Ramachandra.
There are several historic temples and pilgrimage sites in Puri that are devoted to Sri Hanumaan, as well as several lovely tales about him. Here are a few of the stories that were cited.
Siddha Mahaveer : As I mentioned earlier, the temple where he sought refuge is a Hanumaan temple. Additionally, it is referred to as "Siddha Mahaveer" and is one of the original Hanuman temples in Puri and considered as very holy location and a hub for social gatherings. The "kheer" or Payasam served here is thought to be the greatest of its kind. This location is well known as a place of Siddhi or the seat of enlightenment since Sri Sant Tulsi Das had his illumination to consider Sri Jagannatha to be Sri Ramachandra here.
Kanapota Hanumaan: at 1096 AD, Chola-Gangadeva, the monarch who constructed the new temple at Puri, declared his intention to turn the city into the Vaishnavism's global epicentre. Despite claiming to be a Parama Shaiva or devoted follower of Lord Shiva, he changed his mind and offered adoration to Purusottama in this location. But many Rama devotees started worshipping Sri Hanuman with Sri Jagannatha after the saint Tulsi Das' visit. As a result, Hanuman idols can be found at the Srimandir's gates.
I'm going to tell you the tale of "Kanapota Hanumaan" or "Hearing Hanuman" here. You can discover his idol facing the exterior of the temple's western gate with one year. Hanumaan is thought to be preventing the sound of the sea from entering the temple by standing at this location. According to local mythology, Sri Jagannatha once requested Hanumaan's assistance in blocking the entrance of the sea since he was unable to sleep. Hanuman began absorb the sound by using his enormous ears. He is also known as Veer Bikram Hanuman.
3.Fateh Mahaveer: Now continue to the temple's eastern gate, also known as the Singha dwar. It is regarded as the main entrance, and people from all walks of life enter through it. A little Hanuman idol is located on the left side wall as you pass through this gate. Fateh Hanumaan is his given name. Although the hearsay is unclear, we assume him to be a triumph symbol because the word "victory" is in the name. Either a king carried this idol from a foreign land, or he may have won a battle by worshipping him.
4. Flying Hanumaan: In our mythology, Hanumaan, also known as Mahaveer, is the superhero. He is revered in the same way in Sri Mandir. The Neelachakra or the top wheel once suffered damage as a result of a strong cyclone. As a result, both the monarch and the servants became concerned and tried to align it. Flags cannot be tied without straight alignment, and rites cannot start until flags are tied on Neelachakra. King prayed to the Lord for assistance. A very huge monkey arrived soaring at the temple's peak in the interim. In a split second, he positioned the Neelachakra. This has become a popular folktale. They began to worship his statue next to the Neelachakra and gave him the names Flying Hanumaan and Udanta Hanuman.
5. Bedi ( Chained) Hanumaan: Even though Sri Hanumaan, also known as Mahaveer, is revered as a super hero in Hinduism, he can still be seen in Puri chained up like a victim. He is also known as Bedi or Chained Hanuman and can be found at Puri's Chakrateertha road. You may be wondering why. Due to Sri Jagannatha's direction, this has happened.  Saint Angiras once appealed to Sri Jagannatha for assistance since he was experiencing sea-related destruction. Its high flood caused damage to his ashram and place of prayer. He was instructed by Sri Jagannatha to ask Hanumaan for this. He was assisted by Lord Hanuman, who also prevented the sea tide from entering the city. The issue is now resolved. However, when Sri Hanuman visited his master Sri Rama in Ayodhya, the sea once more breached the boundary and entered the city. The saint so prayed to the Lord once more, and the Lord then handed him a chain with the name of Lord Sri Rama. When he gets back, Sri Jagannatha instructed him to fasten this chain to Hanuman. Saint does that. Hanuman remained there since he was unable to break the chain due to Sri Rama's name being written there.
6. Siruli Mahaveer: The village of Siruli is only 5 km away from the Jagannatha temple. According to legend, the Lord once instructed Hanumaan to sleep somewhere else than the temple because his sneezing was disturbing Mahalaxmi's sleep. As a result, he followed the Lord's instructions and proceeded 2.5 steps—or 5 km—from the temple to sleep. There he is worshipped as Siruli Mahaveer.A portrait of Siruli mahaveer is found at the Jagamohan wall of Mahalakshmi Mandir.
7. Suranga Mahaveer: Suranga in Odia language translates as the tunnel. Additionally, Suranga Mahaveer can be found at the Sri Jagannatha Ballav Matha. It is believed that a tunnel led from here to the temple. Even though it is now closed, people used to worship this Hanuman as they entered the tunnel. They think that when passing through the tunnel, he guards both the saints and the tunnel. 
8. Barabhai ( 12 Brothers) Hanuman: In the southern corridor of Sri Jagannatha temple you can find a small temple where 12 Hanuman idols are worshipped. They ae namely, Janma Hanuman, Gaya, Gabaksha, Sushena, Hanuman, Jambaba, taraksha, Angada, Souri, Sugriba, Nala and Neela.
9. Tapaswi Hanuman: He is worshipped in the Koili Baikuntha. He is also known as Charichakra Hanuman and in engaged in protection of the area.
10. Panchamukhi Hanuman: He is worshipped at Nirmalya yard of Sri Jagannatha temple. It is believed that Sri Jagannatha has engaged him for maintaining discipline in Nirmalya yard.
Besides, Hanuman is being worshipped at kitchen. Mahaprasad serving yard, Bije Hanuman etc in Sri Jagannatha temple. Bishuba Sankranti is observed as the birth day f Sri Hanuman in Srimandir with customs and rituals