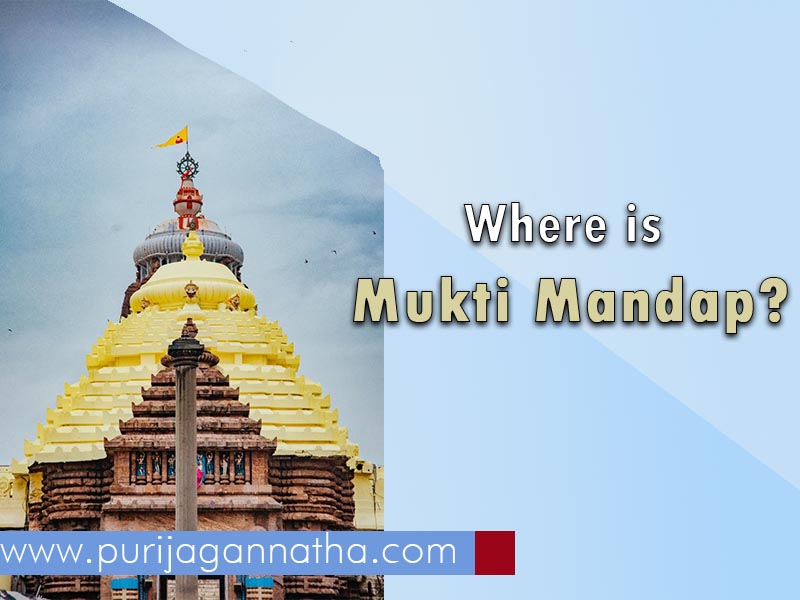 The Mukti mandap is the highest Pundit's body in Sri Jagannatha temple, Puri. Learned Brahmins from the 18 sashana villages (previously 16) around Puri have their permanent seats on the Mukti mandap and the Shankaracharya of Puri Govardhana Pitha is the head of this august assembly of learned Brahmins.
Sasans are the then autonomous villages during the Gajapati Kingdom. Even during the Gangas, Sashan Villages established by the then kings in Cuttack. Only designated families from these sashan Bramhins have rights to sit on Mukti mandap.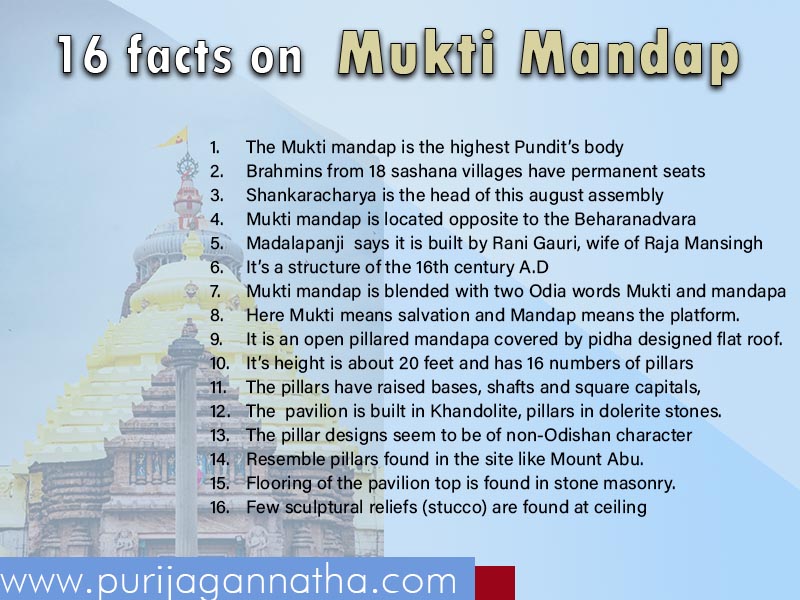 This highest priest's assembly or Mukti mandap is located opposite to the Beharanadvara or the southern door way of the porch or mukhasala (usually referred to as jagamohana) of the Sri Jagannatha temple beyond the passage under the Jhulana Mandapa.
As per descriptions of the Madalapanji (Temple Chronicle), present structure of Mukti mandap was built by Rani Gauri, wife of General Mansingh, who came to Odisha at the behest of the Mughal emperor Akabar to decide on the fate of Odisha and to choose the real Gajapati king of Puri during 1572 AD. So the date of the structure is thus assignable to the last part of the 16th century A.D
Mukti mandap is blended with two Odia words Mukti and mandap, where Mukti means moksh or salvation and Mandap means the platform.
In Puri Jagannatha temple, Mukti Mandap has a raised platform (in Odia called Mandap). You can see this as an open pillared mandapa covered by pidha designed flat roof. The mandap height is about 20 feet and it has 16 numbers of pillars which support the stone beams under the corbelled roof, found in sections. The pillars have raised bases, shafts and square capitals, while the raised platform or pavilion is built in Khandolite stones along with the superstructure the pillars are found in dolerite stones. The pillar designs seem to be of non-Odishan character and resemble pillars found in the site like Mount Abu.
The steps leading to the pavilion are found on the west side of the Mukti mandap, in front of the Mukta Narasimha temple. The flooring of the pavilion top is found in stone masonry. Few sculptural reliefs (stucco) are found at ceiling portion of the mandap. Important among these are the Yajna Narasingha figure, opposite of the Mukta Narasingha temple.